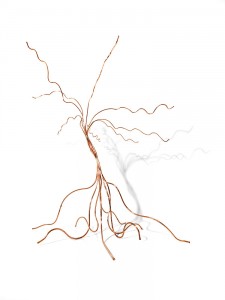 Here are the intial photos from Croce und Wir of the tree for the installation Strange Fruit (from a Wandering Tree). This 3.5-4 meter tall symbolic tree has been fashioned from formed copper tubing from whose branches will hang "Strange Fruit" consisting of photographic elements and small gilded objects.
In cooperation with the Academy for Applied Photography in Graz (A), the installation will travel through cities, towns and countrysides throughout America, Europe and Australia distributing its fruit as well as collecting personal interpretations of "Strange Fruit".
The photographs explore in individualistic ways diverse interpretations regarding "Strange Fruit" from the figurative to the gender-specific, the mythological to the socio-political, the art historical to the intimately personal.
Special thanks to Gänsweider Metalltechnik for their support of this project.
First showing at the Academy: July 1, '10, 8:00 pm.
New York City and Upstate: August 5-22 (details TBA)
Milan-Zurich-Munich-Salzburg-Vienna: August 27 – Sept 8, '10
Next Page »